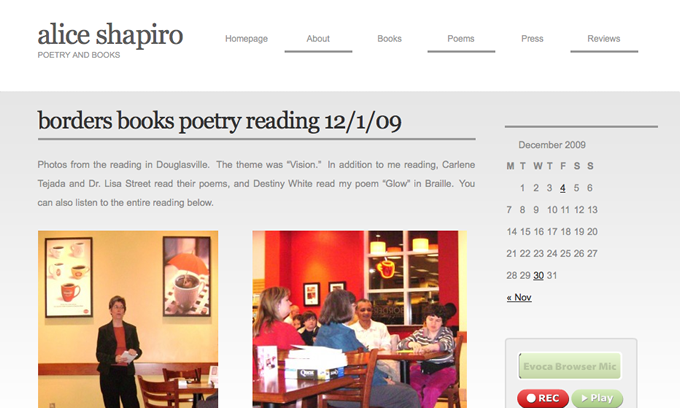 Here's a testimonial that we recently received from another one of our international SEO clients. I'm going to be more diligent about posting these up since they provide real evidence of our ability to help individuals and companies rank better in search engines.
Case Study in SEO
Alice Shapiro is a renowned author from Atlanta and approached us to help her rank in Google for the following keywords:
Within in two weeks we redesigned her blog and if you click on the links below you'll see she's now ranking on the first page of Google!
Here's the testimonial she left for me on LinkedIn:
"Arnold is an SEO expert! He helped me set up a writer's blog/website and managed to get me on page 1 of Google almost immediately. He is professional, timely, personable, and cost effective. I am very happy with the results he provided and highly recommend his services.

Alice Shapiro
http://aliceshapiro.com"
Service Category: SEO and Web Design
Year first hired: 2009
Top Qualities: Great Results, Good Value, High Integrity
We'd love to work with you and give you similar great results in search engines!
Alice is now enjoying more traffic than she ever imagined and is using her website regularly to promote her upcoming published works. Make sure you drop by and check out her poetry

Contact us today for a FREE SEO website report: http://webaces.com/contact/